On the morning of August 1, Phu Bai International Airport (Thua Thien Hue) welcomed 151 Korean passengers on the first direct flight from Seoul (Korea) to Hue. Through the connecting flight between Hue and Korea, Hue is expected to recover and maintain the market of Korean tourists coming to this city.
The first flight connecting Hue with Seoul is operated in the form of charter by Vietjet's A321 aircraft, bringing people and tourists from Hue to Seoul, the Korean capital, and vice versa.
In the afternoon from Incheon to Hue, a delegation of Korean travel businesses and media will fly to Hue to survey activities and programs to bring more Korean tourists to Hue.
The delegation from Korea will have activities to discover and experience destinations and tourism products selected by the Thua Thien Hue tourism industry and Korean partners to include in the program such as introducing new products associated with the tourism industry with the form of convalescence and health care being formed in the locality; experience Zen – Tea associated with spiritual tourism in a Hue temple; visit the exhibition space and demonstrate the tailoring of traditional Hue Ao dai; at the same time enjoy the typical culinary forms of Hue; experience golf tourism in the form of participating in an exchange tournament with Thua Thien Hue Golf Club.
Before that, at dawn on August 1, there were 228 passengers departing from Phu Bai International Airport to Korea. During the trip, Hue's delegation will have a meeting and work with a number of cultural and tourism partners in Seoul and Goechang. Along with that, the delegation will organize a forum to promote tourism and promote Hue cultural heritage in Seoul on August 4.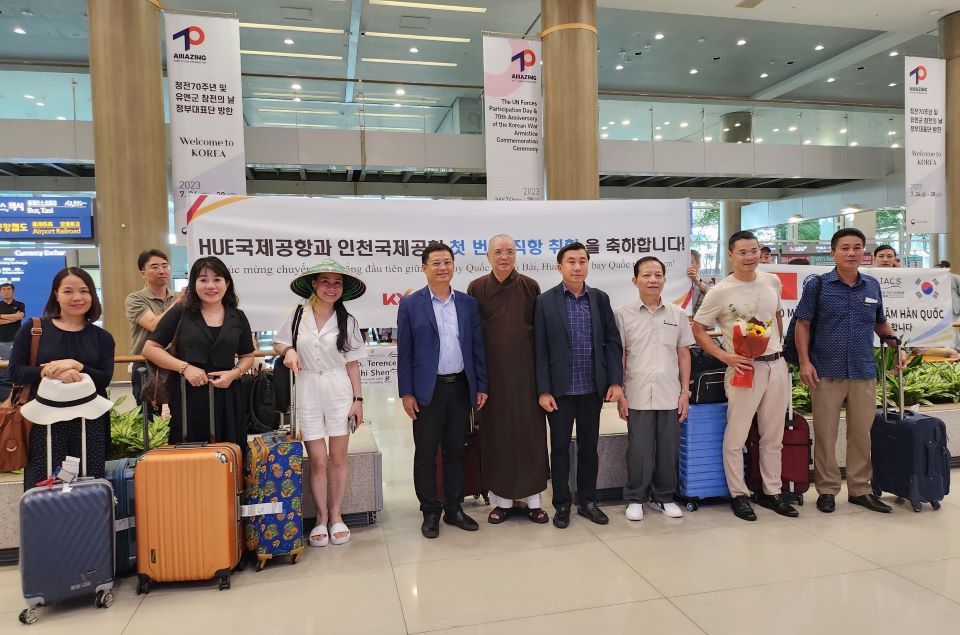 This first charter flight connecting Hue with South Korea is expected to contribute to the recovery of the Korean tourist market. In the coming time, the city aims to have more charter flights from Korea to Thua Thien Hue, continues to maintain the Korean market that is always in the top of the main international tourist markets to Thua Thien Hue.
Besides, charter flights are expected to stimulate the local tourism industry, attract tourists, especially international tourists to return to Hue.
In addition to the Hue – Seoul international route (Incheon airport, South Korea), before that, Vietjet Air also operated a route from Hue to Kunming (China), opening up opportunities for tourism development for Hue, Vietnam.
Source: thesaigontimes.vn