The Development of E-commerce has Increased the Demand for Air Cargo Transportation
E-commerce has rapidly developed in recent years, leading to a significant increase in the demand for air cargo transportation. With the growing popularity of online shopping, consumers worldwide can easily access and purchase products from anywhere. This has presented both challenges and opportunities for the air cargo transportation industry.
Significantly Reduced Transit Times
One of the important benefits that e-commerce brings to the air cargo transportation industry is the increased demand for fast delivery of goods. Consumers increasingly expect to receive their orders as quickly as possible after placing them online. This puts significant pressure on the air transportation system to meet this demand. Goods must be transported from warehouses or stores to customers' addresses in the shortest possible time.
Diversification of Transported Goods
Furthermore, the development of e-commerce has also led to diversification in the types of goods transported by air. Previously, the focus was primarily on lightweight and high-value products such as electronics, jewellery, or high-end fashion. However, with the growth of e-commerce, consumers can now shop and ship a variety of items, including fresh food, cosmetics, household goods, and more. This creates a more diverse and extensive demand for cargo transportation.
Upgraded Transportation Infrastructure
To meet the transportation demands of e-commerce, airlines have had to enhance and improve their transportation infrastructure. They have invested in expanding flight networks, improving the efficiency and technology of their fleets, as well as enhancing cargo handling processes and providing faster delivery services. Airlines have also built partnerships and collaborations with logistics companies to offer comprehensive and efficient transportation services.
Development of Flexible Transportation Options for Users
Additionally, e-commerce has also driven the development of advanced and flexible cargo transportation services. Freight companies are meeting the diverse transportation needs of e-commerce by providing services such as express delivery, online cargo tracking, and intelligent warehouse management. This helps meet consumers' requirements for fast and reliable delivery times.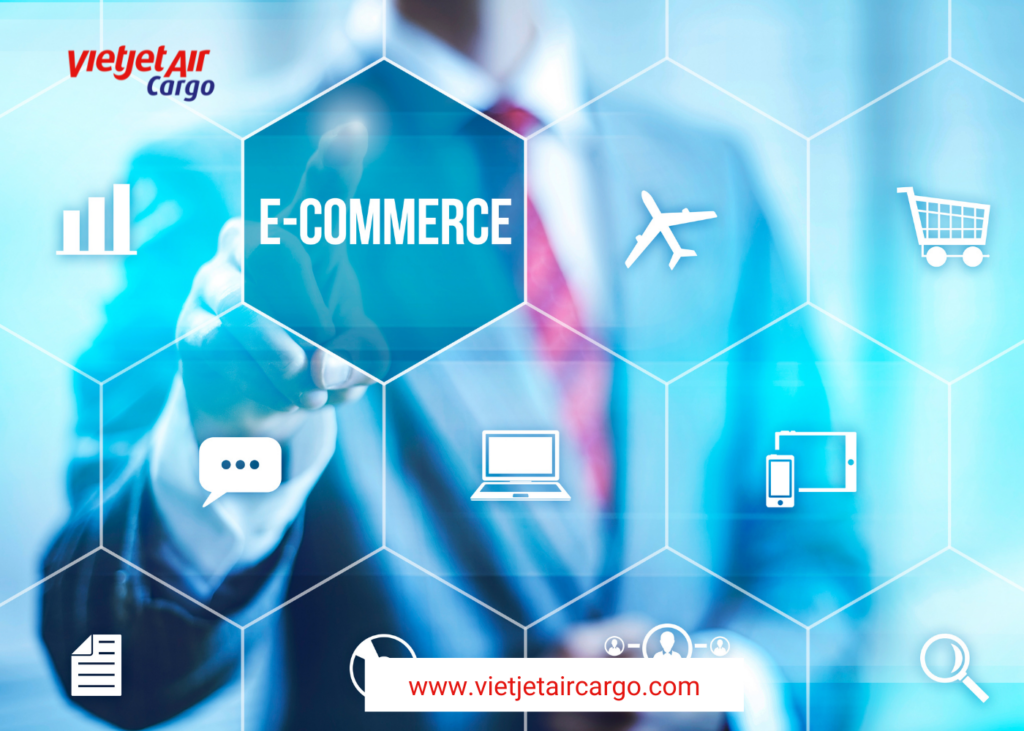 Current E-commerce Challenges
E-commerce has become an essential part of modern life while significantly impacting the air cargo transportation industry. The rapid development of e-commerce has increased the demand for air cargo transportation, creating new challenges as well as opportunities for the industry.
Increasing Demand for Faster Delivery Times
One of the current challenges in post-commerce is the increasing demand for faster delivery times. Consumers expect to receive their goods quickly, sometimes within hours. This puts significant pressure on the air cargo transportation system to provide fast and reliable delivery services.
Growing Concerns about User Information Security
Another concern related to e-commerce is the issue of user information security. With the increasing popularity of online transactions, users transmit a significant amount of personal and financial information over the internet. This poses a significant challenge for businesses and air cargo service providers, requiring them to ensure the safety and security of customer information.
Challenges of Cross-border Transportation
Cross-border transportation of goods presents challenges for the air cargo transportation industry. With e-commerce, consumers can purchase goods from any country worldwide. However, transporting goods across borders requires cooperation between airlines, regulatory bodies, and other stakeholders. Complex legal regulations and customs procedures can create barriers and slow down the transportation process. Freight companies must ensure compliance with customs regulations and procedures to ensure smooth and efficient cross-border transportation.
Conclusion
In conclusion, the development of e-commerce has had a strong impact on the air cargo transportation industry. The demand for cargo transportation has increased due to the popularity of online shopping and electronic transactions. To meet the demands of transporting goods from e-commerce, airlines and logistics companies have had to upgrade their infrastructure, provide flexible and reliable transportation services, and address