To ensure the longevity of fruits during international shipment, it is important to follow proper packaging and preservation methods. As we all know, Vietnamese fruits are typically tropical fruits, which have a relatively short shelf life. However, the import standards of other countries can be quite stringent. Therefore, it is crucial to read and understand the fruit preservation methods for transportation. This not only protects the goods being sent abroad but also saves time, effort, and money.
Preservation methods for fruits sent abroad:
Vietnam is a tropical country with a variety of delicious and high-quality fruits that are favored by international markets and often exported, such as:
– Dragon fruit
– Lychee
– Rambutan
– Coconut
– Mangosteen
– Longan
– Milk fruit
– Pomelo
– Durian
– Jackfruit
– Banana
– Passion fruit
Currently, the only method applied by Vietnamese businesses is to use the Japanese biostimulant called UMIKAI. This substance effectively preserves agricultural products without containing any prohibited ingredients in the US and European markets. Moreover, it is safe for consumer health.
Fruits that meet the export standards for international shipment need to be harvested and classified. Then, they should be processed as quickly as possible to ensure quality and reduce spoilage.
Typically, fruits are preserved during transportation using sulfur fumigation and acid fumigation. For example, in the case of Ben Tre coconuts, the fruit needs to be peeled and packaged, then kept at a temperature of -10 degrees Celsius.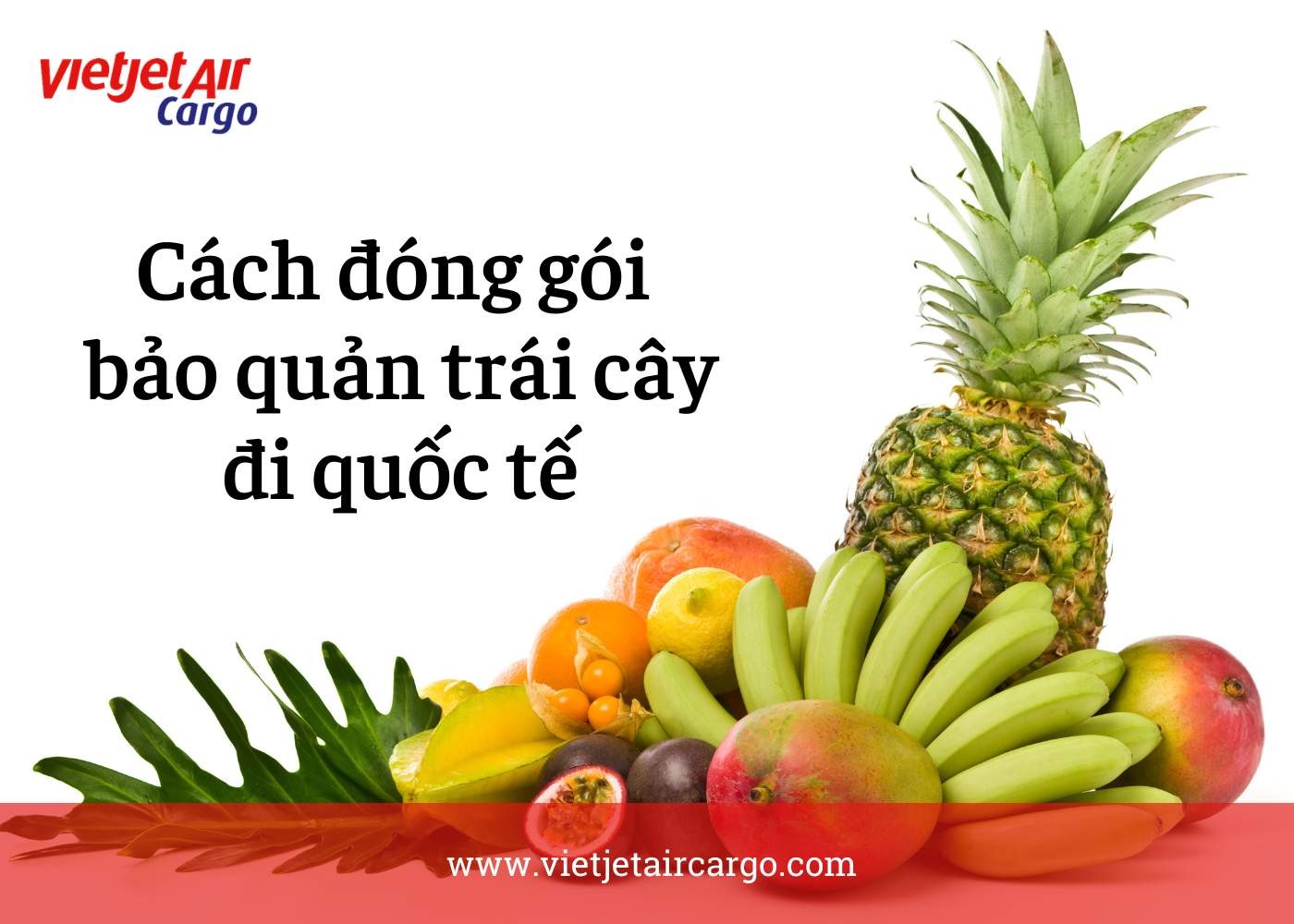 Packaging and preservation methods for fruits sent internationally:
To minimize the risk of damage during the international shipment of fruits, customers can apply the following packaging methods:
1. After harvesting, the fruits should be dried before packaging. Keeping the fruits dry and avoiding water exposure prevents them from rotting quickly.
2. Use specialized foam packaging for fruits, with different sizes available. These foam nets are designed to prevent fruit collision. Additionally, newspapers can be used for additional wrapping.
3. Next, place the fruits in cardboard boxes or thick foam boxes. For larger fruits with thick skins, you can use jute bags instead of cardboard boxes, such as jackfruit, durian, or watermelon.
4. During the long-distance transportation of fruits, it is important to keep the containers dry, protected from direct sunlight, and away from water to prevent premature spoilage.
Current preservation methods applied by businesses for fruit preservation:
Here are some methods that Vietnamese businesses use when shipping fruits internationally that you can consider:
– Rinsing fruits with ozonated water.
– Keeping certain fruits cool or refrigerated at suitable temperatures throughout the transportation process.
– Applying wax to the cut end of the fruit to prevent bacterial invasion.
– Using specialized boxes with breathable holes to facilitate ventilation. Especially, ethylene gas can accelerate fruit ripening and deterioration. The boxes should meet environmental standards and be made of virgin PET plastic to meet the requirements of demanding markets.
Vietjet Air Cargo provides international fruit transportation services:
Vietjet Air Cargo is pleased to provide reliable international fruit transportation services with competitive prices in today's market. By choosing Vietjet Air Cargo, you will receive excellent services, including:
– Support throughout the process with a professional and attentive team of advisors.
– Fast and reliable delivery with competitive prices.
– Commitment to compensate for any issues with the cargo.
– Various customer loyalty programs, after-sales services, and insurance coverage.
If you have a need to ship fruits abroad, it is recommended to apply the methods mentioned above. Additionally, choose a reputable transportation service provider like Vietjet Air Cargo to ensure safe and prompt delivery of your fruit shipments.