The first Vietnam International Logistics Exhibition (VILOG 2023) will be held from August 10-12, 2023, at the Saigon Exhibition and Convention Center (SECC), 799 Nguyen Van Linh, District 7, Ho Chi Minh City.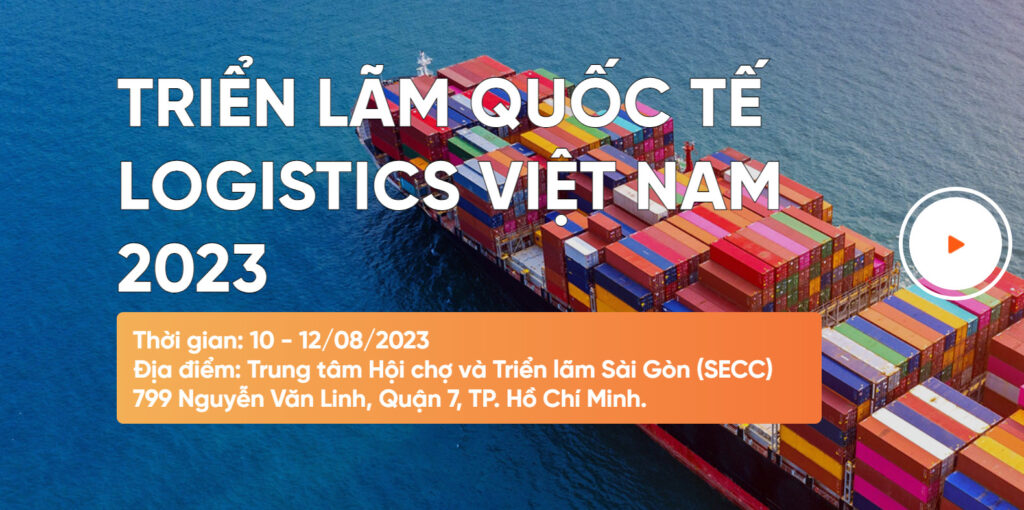 Under the direction of the Ministry of Industry and Trade, this groundbreaking event will bring together leading logistics industry leaders from around the world to collaborate, learn new trends and explore the future of logistics. .
According to the organizers (Vietnam Logistics Service Enterprise Association and VINEXAD Company), the main groups of goods and services participating in the exhibition include: Transport and forwarding; warehouses and cold storage chains; packaging equipment and technology; application of logistics technology… will be displayed on 5,500 square meters, with 345 booths. 250 exhibitors from 22 countries and regions.
In particular, VILOG 2023 has the participation of two leading "big" logistics companies in the world, JGL Worldwide and DPWorld.
In addition, the exhibition has the presence of famous foreign brands such as Nippon Express – specializing in solutions for integrating different modes of transport around the world; UPR- manufacturer of storage racks, pallets, logistics equipment from Japan; Swisslog- Automated logistics system from Switzerland.
And Fesco – a leading company in container transportation through the Far East of Russia through international sea container routes from Asian countries, sea and rail transport routes. AWOT Global- a leading service provider, provides comprehensive logistics solutions to customers in different business industries worldwide. Along with that, there are a series of reputable names such as CMA-CGM, Pacific Lines and JAS…
Besides foreign logistics enterprises, big logistics brands of Vietnam such as Saigon Newport, Viconship, Ratraco, VinaTech, ACT… also participated in the exhibition.
The highlight of VILOG 2023 is the breakthrough applications of logistics technology. This "one-of-a-kind" event offers visitors an enriching experience, giving them access to the latest advances in logistics technology.
It also equips businesses with tools to revolutionize the management and circulation of goods, embrace technology, improve transportation capacity, help predict market demand, and enhance the overall experience of customers. client.
At VILOG 2023, technology enterprises such as: Connexion, AhaMove – OnWheel, Samsung SDS, EcoTruck… will also introduce their innovative products and services, pushing the logistics industry to a new level.
Within the framework of the exhibition, a series of specialized seminars and talks will take place to provide an opportunity to learn more about the constantly evolving and innovative logistics industry.
Accordingly, a series of specialized seminars and talks will focus on pressing issues and the latest trends, from IOT smart technology to customs regulations, import and export competitiveness, and e-commerce cross-border technology, industry human resource training or a breakthrough Buy-Ship-Pay model in exporting agricultural products, etc., to chart the path towards a more efficient and sustainable future for Vietnam's logistics industry.
Not only that, VILOG 2023 also includes B2B sessions, assisting participating businesses to build valuable connections and explore potential for business collaboration.
Uniquely, VILOG 2023 will be held at the same time and place as the 27th International Food, Beverage & Packaging Exhibition (Vietfood & Beverage – Propack).
The organizers expect that the intersection between the two F&B and logistics industry exhibitions will form a chain of links to increase trade efficiency, diversify supply sources, promote competition, and strengthen connections between domestic enterprises. and extraterritoriality.
According to Mr. Tran Thanh Hai, Deputy Director of the Import-Export Department (Ministry of Industry and Trade), VILOG 2023 aims to affirm Vietnam's position on the international logistics map. This is a great opportunity to witness the transformative power of logistics technology, paving the way for process enhancement activities to streamline and shape the future logistics landscape in Vietnam.
VILOG 2023 also facilitates the promotion of advanced and oriented solutions for Vietnam's logistics industry to seize new opportunities and challenges on the global playing field.
As Vietnam's economy continues to thrive, an efficient and robust logistics network becomes more essential than ever. Currently, Vietnam's logistics enterprises have a great advantage that Vietnam's domestic and international production and trade activities have grown continuously in recent times.
Therefore, the exhibition with the participation of foreign logistics service providers, equipment and solution suppliers will help Vietnamese businesses gain access to international solutions and markets.
Source: vneconomy.vn